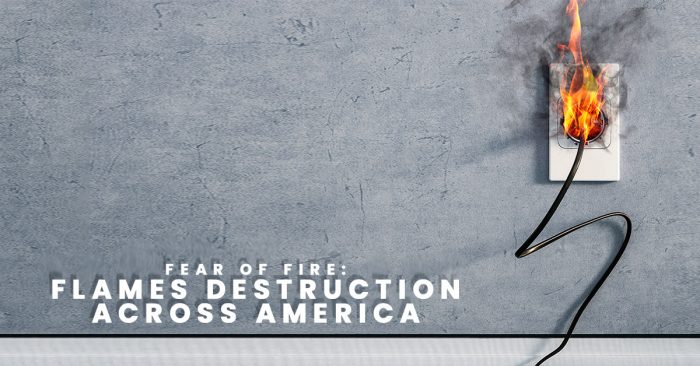 Fear of Fire: How Flames Have Caused Destruction Across America
House fires cause significant damage across America each year. Annually, there are about 350,000 house fires causing over 2,600 deaths and creating over $7 billion in property damage. As significant as these numbers are, fires in residential housing is much less disastrous than they once were. In the 1800s, for example, when homes were largely made from wood and crowded closely together in major cities, even routine fires spread quickly, often burning entire city blocks at a time. This was a time when modern firefighting equipment was limited as were access to home telephones. Public call boxes were the main vehicle for notifying local fire departments of a problem.
Rural and forest fires were even more problematic as they frequently raged for a long period before even being noticed. Here are just a few of the devastating fires that devastated areas of America in the past.
The Peshtigo Fire
Frequently noted as one of the most significant fires ever in the United States, this forest fire started in Northeastern Wisconsin on October 8, 1871. It eventually reached parts of the Upper Peninsula of Michigan. It devoured 1.2 million acres and was responsible for more deaths than any other fire in history. It is estimated between 1,500 and 2,500 people died in the blaze. Incredibly, the fire occurred on the same day as the more famous Great Chicago Fire which, while significant, paled in comparison. The deaths that occurred as the result of the Peshtigo fire almost equal today's annual fire-related death toll.
Great Fire of New York
This fire started on September 20, 1776, and burned until the next day. The fire took place on the west side and Lower Manhattan area in New York City and by the time it was extinguished it is estimated to have destroyed up to 25 percent of the buildings in the city. New York also experienced another "Great New York Fire" that occurred in 1835.
The San Francisco Fire
One of the most famous fires in American history was the result of the San Francisco earthquake in 1906. The earthquake and resulting fire took place on April 18 and not only created almost unimaginable damage but caused massive deaths. The loss of human life is estimated at between 700 and 3,000 or more from both the earthquake and fire.
Coverage for fire damage is an important part of your homeowners' insurance coverage. If you are unsure of your overall coverage, contact us for a free homeowners' insurance review. If you like, we can get you a no obligation quote. We look forward to assisting you.