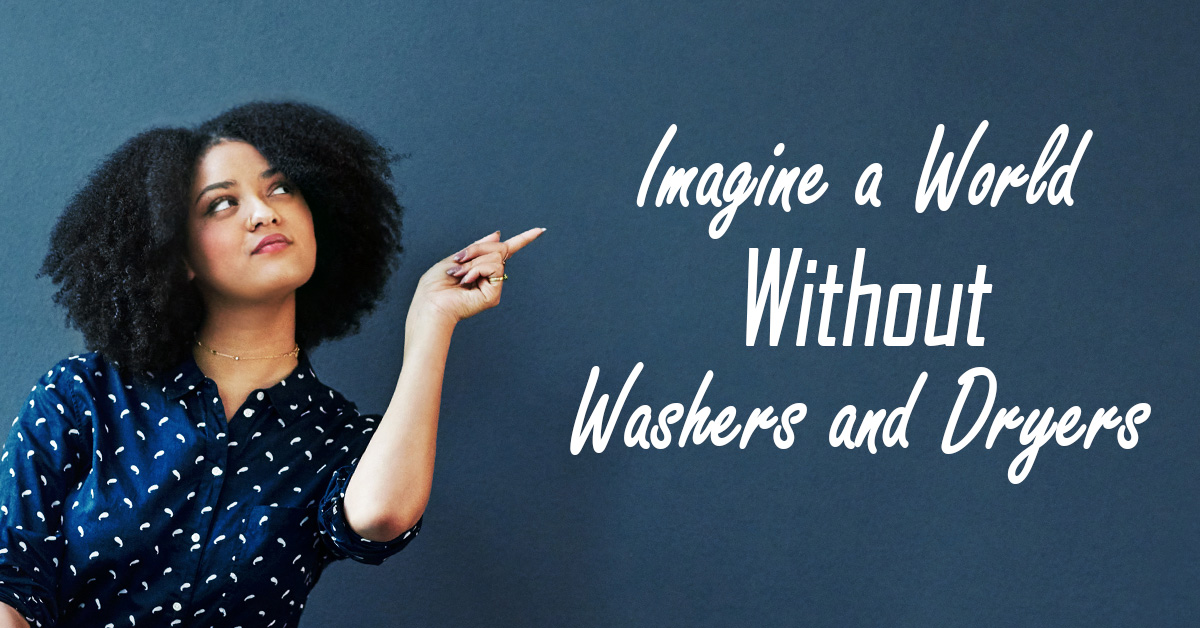 Imagine a World Without Washers and Dryers
Of all the inventions, creations and appliances around the home, perhaps nothing saves us more work than the humble washer and dryer. These precious machines are far too often taken for granted, hidden away in laundry rooms, basements and garages. They are still mostly box-like in appearance and most often come in plain white. Simple. Effective. Reliable. What more could one ask?
Want to know just how valuable these major appliances are? Imagine life without them for a month. Even when available at a laundry mat, it would still mean loading baskets and bags full of dirty clothes to the nearest location. One would then spend hours listening to the hum and tumble of dozens of them, washing and drying as one. Then the folding and repacking of them, only to repeat the process the following week. Ugh.
The modern washer and dryer are true unsung heroes. After all, it was not that long ago the laundry was washed by hand and hung outside on a clothes line to dry. Not only was this a lot of work and time-consuming, but it involved hanging your most intimate garments outside for all to view. Then there were those pop-up showers that would occur while the clothes were almost dry enough to bring in. And we think it's tough remembering to put a dryer sheet in.
Those days were filled with clothes pins, bleach stains and colors that ran.
Today, washers and dryers are energy efficient, water saving and even quieter. They can be stackable and portable. They'll let you know when clothes are clean and when they are dry. There are even steam washers and dryers and washers and dryers in the same unit.
To put all this in perspective, Maytag produced old wringer-style washers until 1983. It was not all that long ago that life in the laundry room was very different.
So here's a toast to the washers and dryers out there. Dust them off, check their hoses, clean behind them and clear their filters. You may even want to give them a hug. Life would be far more difficult without them.
Life could also be far more difficult and financially challenging without insurance. Your auto, home, life and business insurance policies help protect your family from devastating financial losses. Yet, when was the last time you had a real comprehensive insurance review? Contact one of our independent insurance agents today. They will even shop for you, seeking improved coverage at better rates. The decision, of course, is always yours. Connect with us today!