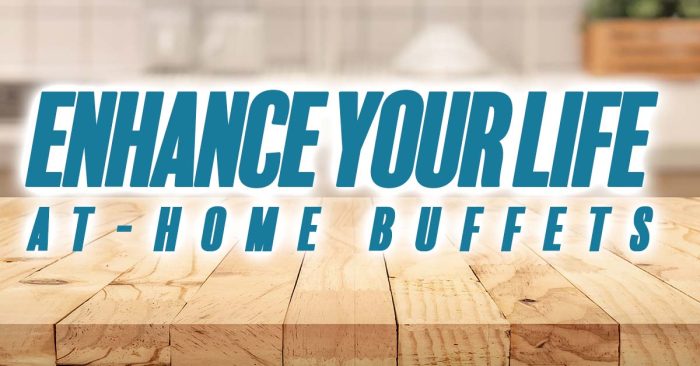 Enhance Your Life with At-Home Buffets
Over the recent past, one style of restaurant has struggled to the point of almost disappearing from the dining landscape. Due mainly to health concerns, cafeteria and buffet-style dining experiences are virtually nonexistent. That doesn't mean you can't create your own similar experience for family and friends at home. Here are some fun, "do-it-yourself" buffet ideas you might try to pull off at home.
Brunch Buffet
You can pull off a fun, tempting "brunch" buffet with a few food and beverage selections geared toward your family or group of friends. Pancakes, scrambled eggs, sausage, bacon and French toast are a great start for food selections, especially when you include fun, sweet fixings. Add a choice of juices, coffee and Bloody Mary's and Mimosa' (if you like) and you are on your way!
Taco Bar
Give diners a choice of soft and hard shells, chicken and beef fillings along with chopped lettuce, tomatoes, cheese and sour cream and watch the crowd have at it. Be sure to include a choice of hot sauces and perhaps some chips and Queso dip as a side.
A Dessert Buffet
A selection of cakes, cookies and/or brownies, a couple of flavors of ice cream, whipped cream, chocolate sauce and some sprinkles and any at home dinner experience becomes a treat for everyone. Don't forget the floats!
Soup, Salad and Sandwich Buffet
Looking for something for everyone? Grab a selection of cold cuts, cheeses, breads and condiments and you are on your way. Offer a choice of two soups and ingredients for a salad and no one leaves hungry.
Creating at-home buffets can be fun and you can always use any leftovers for another day. Keep cleanup easy with sturdy paper plates and disposable cups and utensils. Your crowd will love it and you'll continue to get better at it, enhancing your life!
Life insurance can help provide peace of mind for your family. If you haven't given it much thought lately, reconsider. Contact one of our independent life insurance professionals for a no-obligation quote. Like an at-home buffet, you can start with the basics and grow into it as you feel comfortable. We look forward to assisting you!