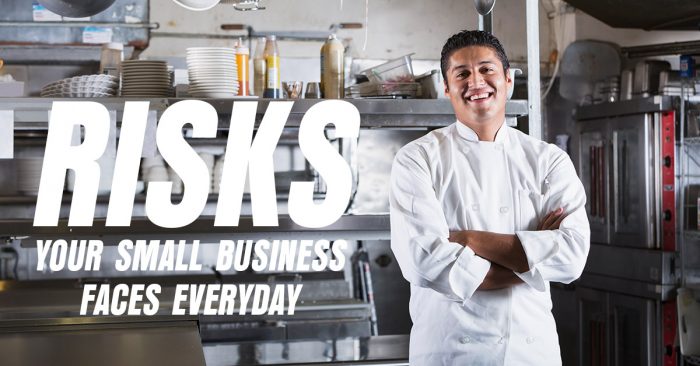 The Risks Your Small Business Faces Everyday
Every day is filled with risks. There are risks to driving, risks in crossing the street and as we've learned all too well in the recent past, risks even in shaking hands or getting too close to someone. But somehow we manage to move on, trusting that the oncoming driver will stay on his side of the road.
If you have a small business, it too faces risks every day. There are risks like those presented by a new competitor or a failing economy. There are also insurable risks that you can at least find some protection from. Here are some of those insurable risks.
The risk of a slip and fall. A slip and fall on the property where you conduct business can lead to a liability claim against you that can prove to be very costly. A liability claim can mean legal costs and even the cost of a settlement or judgement. The liability coverage of your business insurance plan can cover the financial risks of liability claims like those of a slip and fall.
The risk of vandalism. Would you be covered if you came to work one day to find windows broken, walls spray-painted or your property otherwise vandalized? Many businesses, especially smaller ones, are not equipped financially for such an event. An affordable small business insurance plan can help.
The risk of theft. Like vandalism, theft can occur anytime. It could be the theft of cash, inventory or computers and electronics. It could even be the theft of valuable files and customer information. An independent insurance agent can help determine your risks for theft and offer coverage to protect your business.
The risk of employee injuries. If an employee of yours is injured at work or in the performance of his or her duties, Workers Compensation can help protect you and them. Make sure you are not overpaying, however, when you connect with one of our independent agents.
The risk of having your business interrupted. What if theft, vandalism, or severe damage from storms caused your business to close for weeks or months? Business interruption insurance can protect your income from any covered event.
You can't eliminate concerns in every area of life, but business insurance can help deliver more peace of mind. Contact one of our independent business insurance experts for an affordable quote to cover your enterprise. They can get quotes from insurance companies who specialize in businesses just like yours.