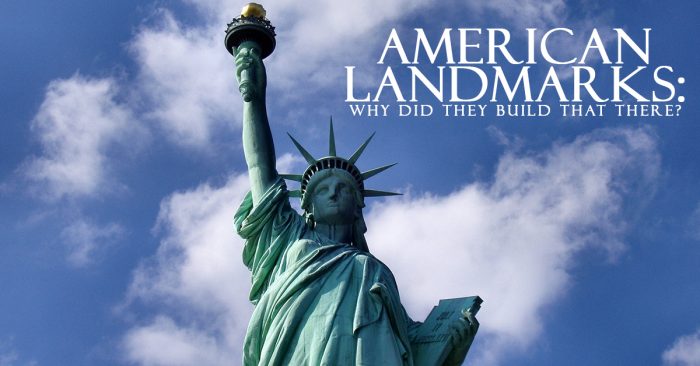 American Landmarks: Why Did They Build That There?
It's easy to understand why the Washington Monument is in Washington, DC or the Empire State Building is in New York City. Some landmarks, however, are not so obvious. Why, for example, did they create Mount Rushmore in South Dakota or build the Rock & Roll Hall of Fame in Cleveland? Here is a look at some popular U.S. landmarks and the reason they built it where they did.
Mount Rushmore
The site for Mount Rushmore, featuring the faces of four iconic presidents was chosen by historian Doane Robinson in the Black Hills of South Dakota, not for some patriotic purpose. It was chosen as a way to promote tourism in the state. Doane, by the way, was from South Dakota. The idea was conceived in 1923 and completed in 1941. Tourism is now the second largest industry in South Dakota. Sounds like a Chamber of Commerce Award winner.
The Rock & Roll Hall of Fame
People often wonder why the Rock & Roll Hall of Fame is located in Cleveland, Ohio. It was partly because local DJ Alan Freed is given credit with coining the phrase "Rock & Roll" and he held the first major rock & roll concert; the Moondog Coronation Ball in the city. Cleveland also extensively lobbied for the Hall to be located there, winning in an influential poll conducted by USA Today. Other cities considered included New York, Detroit, Philadelphia, Memphis and Cincinnati.
The Arch in St. Louis
The idea for a monument to revitalize St. Louis' Mississippi Riverfront area was first floated in 1933 but the Gateway Arch wasn't completed until 1965. An arch was chosen in tribute to the city's contribution to Westward expansion in the US. The arch was constructed upward from both legs with the final piece placed at the very top, connecting the legs and completing the arch. It also avoided a potentially embarrassing engineering mistake.
The Pro Football Hall of Fame
Many are puzzled as to why the Pro Football Hall of Fame is located in relatively obscure Canton, Ohio. There are three reasons. First, the NFL was actually founded in the community in 1920, then known as the American Professional Football Association. The second reason is that the Canton Bulldogs were the league's first two-time champion winning the title in 1922 and 1923. Finally, the city raised nearly $400,000 to build the initial structure in the early 1960's. Money talks and Bulldogs walk.
There are plenty of interesting places to visit in the United States, and knowing why they are where they are can add to the interest.
If you are planning a trip, consider affordable travel insurance. A travel policy can protect you financially should you need to cancel your trip or if your trip is altered through no fault of your own.