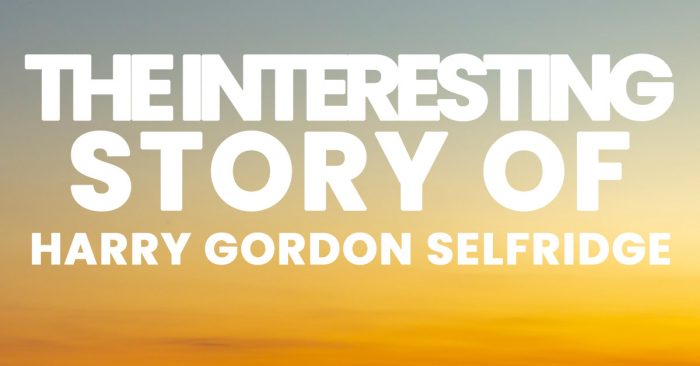 The Interesting Story of Harry Gordon Selfridge
If you've never heard the name Harry Gordon Selfridge, you shouldn't be concerned. Although quite famous in England in the early 20th Century, Selfridge is a relatively obscure figure in history with the exception of one phrase. Selfridge is credited with coining the saying "The customer is always right."
You see, Harry Gordon Selfridge started a department store in London in 1909, a time when Marshall Fields and Sears-Roebuck where dominating the American market. Selfridge created the slogan as a way to assure his customers they would always be taken care of. But aside from his creating a world-famous slogan and a successful department store (at least at that time), Selfridge was an interesting character noted for some out-of-the-box exploits. Here are a few.
He was born in Wisconsin. Yes, in spite of his success in building a department store fortune in London, Selfridge was actually born in Wisconsin and raised in Jackson, Michigan.
He was called the "Earl of Oxford Street." He built his department store at the unfashionable west end of Oxford Street in London, earning him the moniker.
He worked hard but was also fortunate. He worked as a stock-boy at Marshall Fields in Chicago and eventually became a partner after 25 years. He started his London department store after marrying into a wealthy Chicago family in the early 1900s.
He promoted the concept of shopping for the pleasure of it. Selfridge created "departments" in his store where he intended people to spend lots of time. He even had reading rooms, a first aid station, a restaurant and library.
He tried to get his own subway stop. He knew a subway stop close to his front door would be a huge boost to business. He wasn't able to accomplish that.
He did get #1 as the store's telephone number. He may not have gotten his subway stop, but he did successfully lobby to get General 1 as the store's telephone number.
Selfridge's extravagant lifestyle ended up costing him. While Selfridge prospered during World War I, the great depression, mounting debt, a lavish lifestyle and unpaid taxes did him in. His own board of directors voted him out in 1941.
So what of Selfridge's "The Customer is Always Right" mantra? It too, has been largely discredited over time as being too simplistic and unrealistic. It worked for Harry Gordon Selfridge, however…until it didn't.
If you want to be assured you are getting the best value in insurance, compare. We can help. Contact our independent insurance agents for a no-cost insurance review and price quote. We look forward to assisting you.