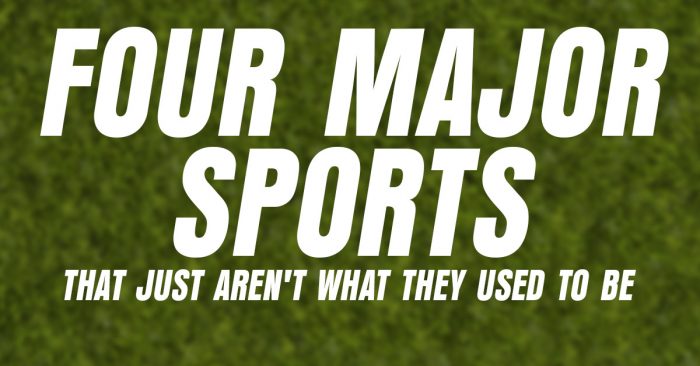 Four Major Sports That Just Aren't What They Used to Be
Things change. We get it. But sometimes those changes happen so slowly we barely notice them. That has happened recently with some major sports that used to dominate the sports pages and television. Here are four sports that used to occupy much of our time that simply have faded. Some have faded a lot. Others are still hanging on.
Harness Racing
Harness racing features horses pulling carriages called sulkies, originally made from a wood frame and eventually aluminum. Horses pulled these sulkies using a trotter or pacer technique. Harness racing was once a big deal, and county fairs throughout the country featured it. In fact, like thoroughbred racing, harness racing had its own triple crown for both Trotters and Pacers. Harness racing in some form has existed for thousands of years but interest today is at a low point.
Professional Bowling
It may be hard to imagine today, but there was a time when professional bowling dominated Saturday afternoon television. Names like Earl Anthony, Dick and Pete Weber and Marshall Holman were household names in the 60s, 70s and 80s. In fact, the Professional Bowling Association (PBA) is given much of the credit for the success of ABC's Wide World of Sports as a lead in. Today, bowling is nonexistent on television and local bowling centers include day-glo bowling, bumper bowling and an array of dazzling lighting effects to maintain interest.
Professional Boxing
From the 1920s through the 1980s, boxing was the ultimate one-on-one sport. Great nicknames, over-the-top personalities and bigger than life rivalries dominated the sport and the interest of Americans. Superstars like Sugar Ray Leonard, Mohammed Ali, Joe Frazier, Mike Tyson, George Foreman and others provided the drama and launched American sports into the pay-per-view era. Lack of personalities, too many different title belts and the advents of the MMA greatly diminished the appeal of pro boxing.
Professional Poker
For a hot minute it seemed everyone was playing or watching poker. It appeared poker tournaments were on television 24/7. It was a sport for everyone where you didn't need to be an athlete to excel. We were enamored with big personalities and even bigger payouts exceeding a million dollars. Superstars included Phil Hellmuth, Phil Ivey, Doyle Brunson and others. Interest in poker, as a sport, waned in part, from simple over-saturation.
Don't play games with your insurance. Get a no obligation review and price quote today. Our independent insurance agents are here to help. Contact us today.