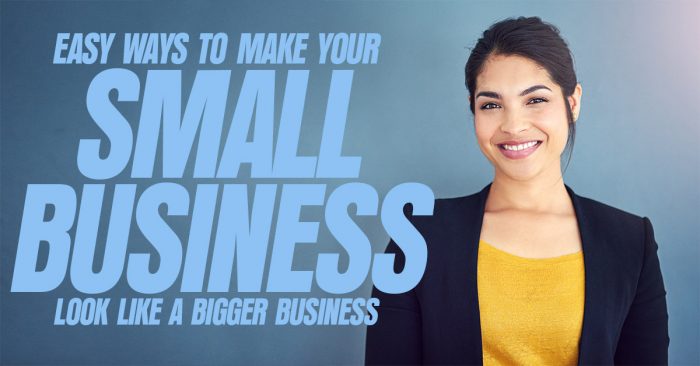 Easy Ways to Make Your Small Business Look Like a Bigger Business
There are a lot of benefits to being a small business. You can promote your one-on-one service, personal attention and how your customers won't get lost in the shuffle. There are, however, also drawbacks if a potential client doesn't feel you have the experience or resources to get the job done for them. Here are some simple ways to make your small business appear to be bigger than it is.
Don't Name it After the Owner's First Name
There may be a certain charm to "Bob's Lawn Care" or "Phil's Painting" but for the most part a first name on a business telegraphs this is a small mom & pop business. Now a last name, changes that dynamic. "Anderson Contracting" or "O'Neil's Roofing" sounds a bit more substantial.
Create a Tagline
Generally, larger, established companies have a tagline. Some examples include taglines like "Anderson Landscaping. Creating a Greener Mid-State Region" or "A+ Pre-owned Cars. Adding Value to Every Purchase."
Get a Logo
It may not be Nike's Swish or McDonald's arches, but you can hire freelance artists online to inexpensively create a logo that can make you look big time. Consistent branding is a great way to make you appear larger than you may be.
Wear Uniforms
Whether you have a lawn care company, are into roofing, construction or even real estate, uniforms can give you and your team a polished appearance. The "uniform" may just be khakis and a green golf or quality t-shirt or something similar, but it still will send a message.
Get High Quality Business Cards
Even the most expensive high gloss, embossed cards are still relatively inexpensive. What is it worth to impress a prospect?
Purchase Quality Magnetic Vehicle Signs
If you have a tagline and logo, put them to use with your phone number on magnetic signs for your own and the company's vehicles. A high-quality magnetic sign should appear to be painted on the vehicle.
Start a Blog and Promote It
Nothing makes you appear to be an expert like blogging about business-related subjects and promoting those blogs on social media and through emails. Be sure to include lots of tips and tricks for customers to use.
Create a Custom Guarantee
Develop and promote your own guarantee or warranty. "The A+ Guarantee: Drive your car for five days and if you're not happy, we'll give you your full purchase price on another vehicle on our lot." or "You'll be happy with our lawn care service or your next mowing is free."
Protecting your small business is the "bigger business" thing to do. It also may be less expensive than you think. Contact us to discuss how a small business insurance program can protect you from theft, fire, vandalism, natural disasters and even liability claims. Contact one of our independent insurance agents to see how you can boast "insured" on your marketing materials.