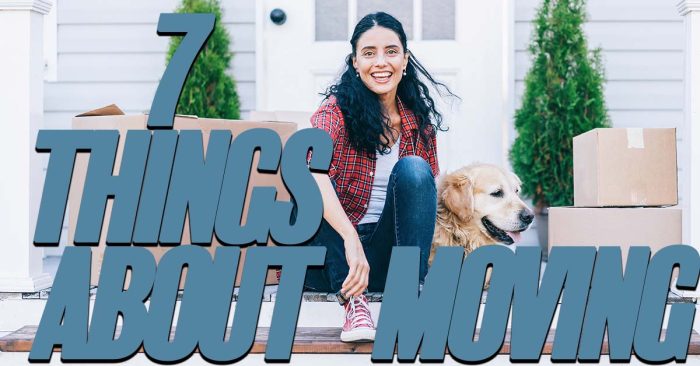 7 Things About Moving
Anyone who has moved households wouldn't wish the process on their worst enemy.
Moving is the opposite of fun. Now, if you are moving to a new, exciting city into your first new home to get a great new job that doubles your salary, it may be tolerable. Fun though? Never.
Anyone who has moved more than twice would probably tell you these 7 things about moving you should know.
You Can't Start Soon enough 
Almost everyone who has moved felt pressured by a timeline. Get started early and do things every day to help facilitate your move. Even small things add up. Take joy in progress.
Understand the Difference Between Packing and Moving
Packing is putting things in boxes or bins. Moving is transporting them from one place to the other. While you may not be able to "move" until a certain date, packing can usually commence much sooner. Get started early and pack often.
Hire a Mover
Alright, a moving company can be expensive, and you may not be able to afford the full treatment that includes bedding disassembly, packing, moving, and unpacking and re-assembly. At the very least though, hire a mover to transfer the big, heavy stuff from one place to another. This is particularly critical if a move is from or into a multi-level apartment building.
The Pizza Beer Thing Doesn't Work
There was a time when offering some beer and pizza for moving help worked, but not so much anymore. Save yourself the grief and let people know you are moving and let them know any help will be appreciated. You can party appropriately with those who step up later.
Pack and Mark Boxes for Efficiency
Put kitchen related stuff in a box marked "kitchen" and bathroom related material in a box named "bathroom" etc. Place moved boxes in their designated rooms and unpack as time allows. At least your things will be sorted by room.
Protect Your Floors
Be sure to lay down mats or plastic runners in your new home to protect the flooring or carpeting. This is an easy way to save some major cleaning later.
Provide Beverages
Have a cooler of beverages in the refrigerator at both locations, although you may want to hold back on the beer until the move is completed.
Whether you are renting or buying your new home, protect your assets through renters or homeowners' insurance. Contact one of our independent insurance agents for a no obligation quote today.