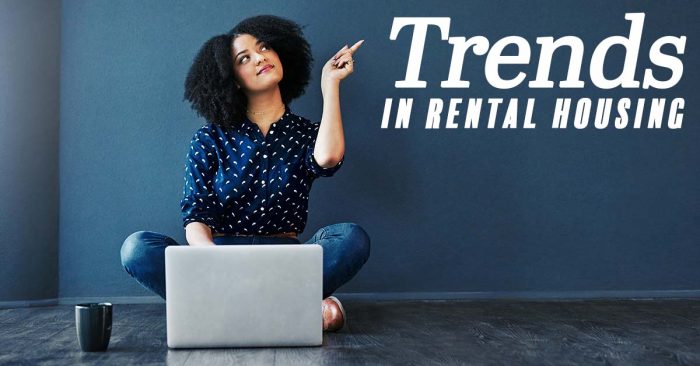 Trends in Rental Housing
If you are moving into an apartment, especially if you are downsizing, you will likely find that apartment life has changed significantly from when you might have rented last. Like traditional housing, apartment communities have made changes to appeal to modern living habits and desires. Here is a look at some of the changes you may find in rental housing.
Common Interior Upgrades
Investment property owners have discovered the appeal of rental housing upgrades in attracting tenants and higher rental rates. Common upgrades that attract tenants include granite or even marble countertops, stainless steel appliances and wood-looking vinyl flooring. Today's newly constructed rental spaces may include walk-in closets, dishwashers and in unit washer/dryer hookups.
Safety and Security
Like homeowners, tenants are increasingly concerned about the safety and security of the properties they call home. Many apartment communities have responded with better lighting, security cameras and, in some instances, "courtesy" patrols.
Sustainability
Apartment communities are recognizing the need to be more environmentally friendly and sustainable. In many cases, they are using more efficient HVAC systems and improving insulation and windows and doors. LED interior lighting is becoming more common, as is outdoor solar lighting.
Pet-Friendliness
Where individual property owners may still discourage pets, investor-owned communities are discovering the value of becoming pet-friendly. They will often charge an additional one-time pet fee along with a monthly fee to offset potential damage from allowing pets and increase income. Many still may have restrictions on dog size or breeds that are allowed. Some communities go so far as having a dog or "bark park" on premises.
More Community Amenities
Even budget-friendly communities are adding features and amenities to appeal to renters. Clubhouses, business centers, fitness centers, free Wi-Fi, playgrounds and even pools and sun-decks are becoming more common.
Of course, along with these improvements, higher rent rates often follow. The good news is that renters insurance remains very affordable for the average person who chooses to rent. To find out how valuable renters insurance can be in protecting your assets, connect with one of our independent insurance specialists. Get a free quote and discover the benefits and peace of mind you can get from renters' insurance.