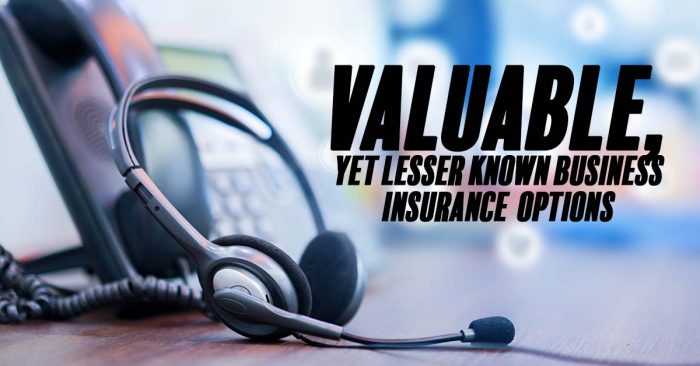 Valuable, Yet Lesser Known Business Insurance Options
One of the reasons working with a personal, professional business insurance agent is so valuable, is that they can take the time to customize a business insurance program specific to your business. Selecting an independent business insurance agent adds the benefit of choosing from multiple insurance companies. While there are "cookie cutter" business insurance plans available, they may not include some valuable, lesser known protections. Here is a quick look at some options worth considering.
Business Interruption Insurance
While you may have your property, inventory and other assets covered by business insurance, what about the income lost while you are rebuilding or restructuring from a covered event? Business insurance can help replace the income you had anticipated to earn while your business was inoperative. This can help you keep valuable employees working while you focus on efforts to reopen. Business interruption insurance can buy you the time you need to recover from a covered loss.
Professional Liability Insurance
If your business offers professional services, consulting or financial management, you should consider professional liability insurance, sometimes referred to as malpractice insurance. This can cover you from claims resulting from mistakes, errors or omissions that may occur during the course of business.
Home-Based Business Insurance
If you conduct business from your home, you may not be fully covered by your homeowners insurance. Inventory, equipment and even liability claims may not be covered. Discuss your home-based business activities with one of our independent business insurance professionals to ensure you are sufficiently covered.
Cyber Liability Insurance
We live in a world where even small businesses need protection from the high costs related to cyber crime. Data breaches and malicious attacks on small business systems can prove to be very expensive, especially if liability claims result from the breach of customer-related data. Contact your independent business insurance professional for details.
Don't settle for basic coverage when it comes to your business insurance. Let's discuss your business and your potential risks. See the difference working with a personal business insurance professional makes. We look forward to assisting you.