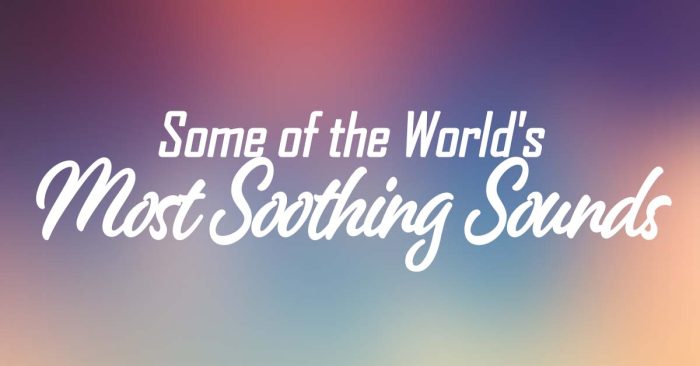 Some of the World's Most Soothing Sounds
The human mind is an amazing recorder. It records memories, images, emotions and sounds. The sounds it has the ability to playback are fascinating. Here are just some of the world's most soothing sounds it can recall.
Waves
There's a reason why people love to live and visit the beach. The sound of the surf is one of life's terrific soothing sounds. Whether you enjoy it from a balcony, beach blanket or beach side lounge chair, the relaxing sounds of waves are almost unbeatable.
The Sound of Rain
There's something exceptionally soothing about the sound of a long, slow summer-style rain shower. Even the low rumble of thunder in the distance can add to the calming qualities of an extended rain shower.
The Wind
Many will mention how the sound of a breeze seems to calm and soothe the nerves. You can almost imagine an open window with the curtains blowing slightly in the breeze..
Smooth Jazz
Sure, there are those that crave their country music, raise the volume when it comes to rock'n roll and blast their hip-hop, but only one style of music can be described as soothing…and that is smooth jazz. There is a reason it is played in spas, nail clinics and even during surgeries.
A Cat Purring
Even if you are not a cat person, it is hard not to admit the sound of a cat purring is not soothing and enjoyable. It usually doesn't last long, so enjoy it while you can.
A Baby Laughing
Having a bad day? Google some videos of babies laughing. The uncontrollable innocence of a baby laughing is rejuvenating, fun and contagious. If you don't laugh yourself, you are guaranteed a smile!
Adele
Ok, perhaps a bit overplayed, but almost everyone will admit she has one extraordinary, soothing voice.
Want less stress in your life? Adequate insurance protection provides exceptional peace of mind. Contact us for a no cost, no obligation quote on auto, life, business or home insurance today. It can be very soothing to hear "We've got you covered."