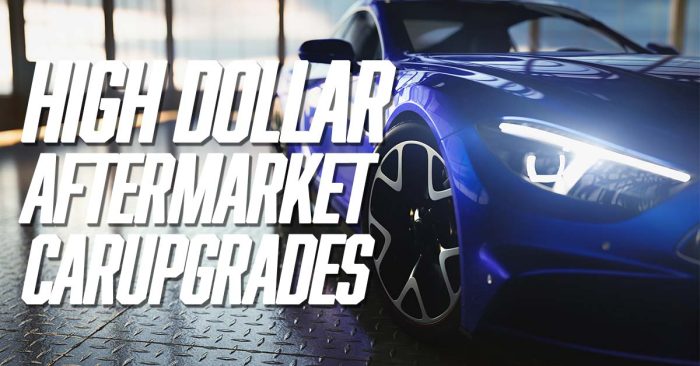 High Dollar Aftermarket Car Upgrades
Every young generation approaches car customizations just a bit differently. In the forties and fifties it was hot rods, in the early sixties, little sports dominated and, in the late sixties, VW Beetles and Busses were popular. In the seventies, of course, muscle cars took over, followed by a myriad of configurations ranging from "low-riders" and boom boxes on wheels to "spinners", custom paint jobs and oversized wheels.
They all gain attention, generally appealing to males, and can be time-consuming and costly to make.
Wheels and Tires
Oversized, highly polished chrome wheels or even "midnight" or black rims are being combined with oversized wheels to provide a distinctive look that has even transferred to new cars coming off the assembly line. Tires can cost into the hundreds of dollars per car and a car could have thousands of dollars in upgrades in rims alone.
Sound Systems
It has always been common for youthful Americans to play music loud in their cars, but new technology has taken automotive sound systems to the next level. This sometimes happens at the expense of cargo and interior room. Add in some lighting and a system could price out at what a new Mustang would have cost in 1965.
Custom Paint
Custom paint has always been on the high-end wish list for those individualizing their vehicles. Today's custom paint schemes can have an almost 3-D appearance to them, taking multiple applications of paint and clear coat. This, of course, can easily reach into the thousands of dollars.
Engine Performance and Amplification
It is almost limitless at what can be spent on getting more and more horsepower out of an engine. Of course, it is not just about the power either. A car has to "sound" right. Engine upgrades and exhaust and amplification kits can rival that of a replacement engine.
It is important to note that some of these upgrades are done to older cars, increasing their value significantly. If you want to cover these upgrades with car insurance, they will need to be noted in your car insurance coverage. If not, coverage may be limited to the basic book value of your vehicle.
If you are upgrading your car or truck, upgrade your car insurance. Contact our independent agents to seek out appropriate coverage for you with a free, no obligation quote.