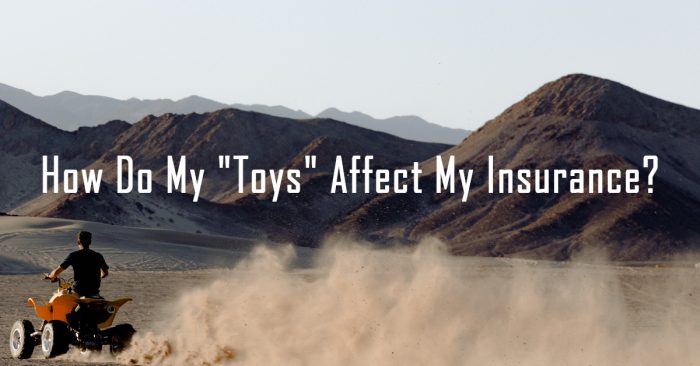 How Do My "Toys" Affect My Insurance?
Someone once said boys never really grow up, its just the size of their toys that changes. If you have acquired an RV, jetski, boat, motorcycle, ATV, antique vehicle or other such "toys", It is likely you've made a significant investment in it. You should be aware that whether it is on or off your property, it may not be fully covered when it comes to your insurance.
First of all, things that move are generally not covered under a homeowners' insurance policy. When it comes to automobile insurance, toys that are being towed may be covered by liability insurance under your auto policy but that would not cover any damage to your "toy". Your TV, motorcycle or go-kart may also not be covered if it is stolen.
So how do you cover such valuable assets? Fortunately, there are a variety of loss prevention products that address these toys. These policies can provide appropriate coverage if these items are damaged in an accident, if someone is injured while riding them, and even if they are stolen. Policies are common for boats, RV's and motorcycles. They are available even for specialty vehicles like dune buggies, antique and restored vehicles. The key is contacting your independent insurance agent to inquire about this specialty coverage.
Rates may be impacted by how and how often these items are used, their value, where they are stored and the age of their primary user. There are other risk factors that an insurance company will review in determining premiums.
There may be instances where the risk outweighs the value. This is why it can be wise to check with your independent agent before acquiring a toy that may be expensive to insure properly. While you may be able to afford the toy, you may find the insurance too expensive. It would be prudent to know that ahead of time and our agents can help.
If you are relying on your auto or homeowners' insurance to cover your toys, you may be at a loss. Contact us to make sure your "toys" are covered.