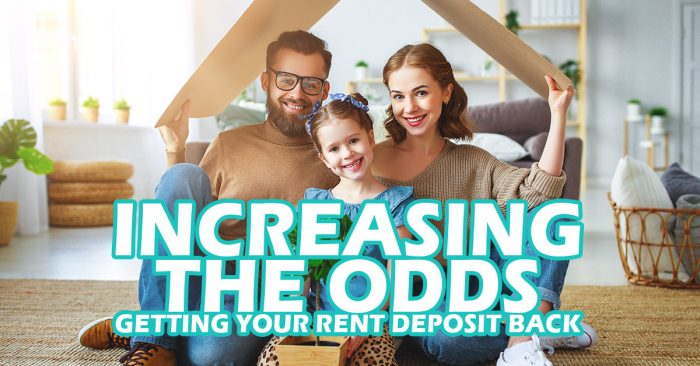 Increasing the Odds of Getting Your Rent Deposit Back
We've all either heard stories about or been a part of a situation where a landlord has kept all or part of a rent deposit for one reason or another. What can you do to maximize the odds you will not be in a similar situation? Here are some steps you can take to make sure you get back what you should reasonably deserve.
Understand the Terminology
Landlords may use a variety of terms when leasing space. They may call a fee an application fee, deposit, security deposit, cleaning fee, or first or last month's rent. Here's a quick definition of each:
Application Fee. This is what a potential landlord charges you just to consider you as a tenant. It usually covers the costs of a background or credit check and the time it takes to confirm employment, rental record and/or personal references. This is not refundable.
Deposit or Security Deposit. A fee a landlord charges to ensure the property will be reasonably taken care of, subject to reasonable wear and tear. If the property is damaged, the landlord can deduct the costs of repairs from this deposit.
Cleaning Deposit. This is intended to cover the costs of returning the property to the condition it was in when initially leased.
First and/or Last Month's Rent. This can only be used for rent and not to cover the costs of damage unless stated so in the lease.
Document the Condition of the Property Upon Move-In
Note any items that are in disrepair or non-working through notes and images. Send a copy to the landlord.
Ask Your Landlord
At the outset and upon notification that you will be moving out, simply tell your landlord it is your intention to get all of your deposit back at the end of the lease, and for any final instructions on what you need to do that.
Document the Condition of The Property at Move Out
Take an additional set of images once you have moved your belongings out and have cleaned it. Include interior photos of cupboards and closets. Include these images in a dated, written request for the full return of your deposit upon move-out.
Although you may still have issues getting your full deposit returned to you, you will certainly improve your odds of doing so by taking the above steps. If the landlord still holds back your entire deposit you can file a claim in small claims court using your images and notes as evidence.
Protect your investment when renting by securing affordable renter's insurance. Renters insurance can cover your furniture, personal property and even cover you from liability claims. Some personal electronics may be excluded, ask your independent agent for details. Contact us to get a no obligation price quote on renters insurance and get your coverage today!