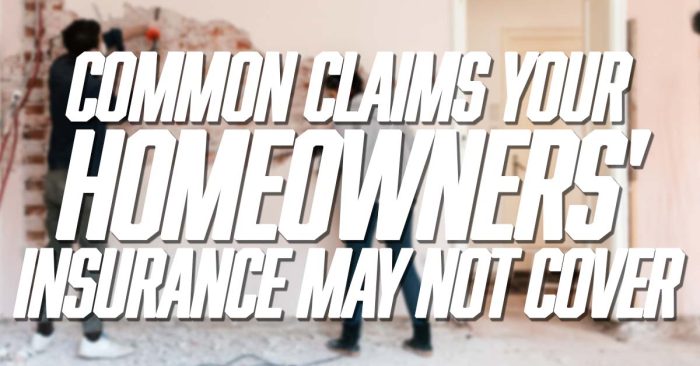 Common Claims Your Homeowners' Insurance May Not Cover
One of the reasons  we are so adamant about encouraging consumers to get a homeowners' insurance policy review is that many have a misperception that their home insurance is all-encompassing. They may believe that because they signed up for insurance coverage at some point and continue to pay premiums, they are covered A to Z for any calamity.
There are few more frustrating situations to find yourself in than to discover your insurance doesn't provide coverage, or enough coverage, for a specific claim.
Here are some common examples.
Flooding
Flooding is NOT covered by basic homeowners insurance. It is separate government sanctioned coverage that must be secured above and beyond your basic home insurance policy. A review will determine whether you are protected or not.
Dog Related Claims
Some homeowners' insurance policies will not provide liability coverage for the actions of dogs or certain breeds of dogs. It can be dangerous to assume dog bites that occur on your property will be covered by your homeowners insurance policy unless you have verified protection.
Trampolines and "Attractive Nuisances"
Backyard trampolines can be considered the kryptonite of homeowners' insurance. Not only will injuries sustained on a backyard trampoline likely not be covered by liability coverage, owning a trampoline may put your entire coverage at risk. Check your policy to make sure you are covered for other attractive nuisances like backyard pools, hot tubs etc.
Coverage Limits
It is possible your home has outgrown its coverage either through improvements, growing housing values or inflation. If you haven't reviewed your policy in years, you could come up short in the event of a claim.
As independent agents, our team is qualified to review the home insurance policies of any company. We can help verify current coverage and uncover gaps where protection may be prudent. The good news? An insurance review is free and there's no obligation to make any changes. It's all up to you. Contact us for the peace of mind you deserve today.