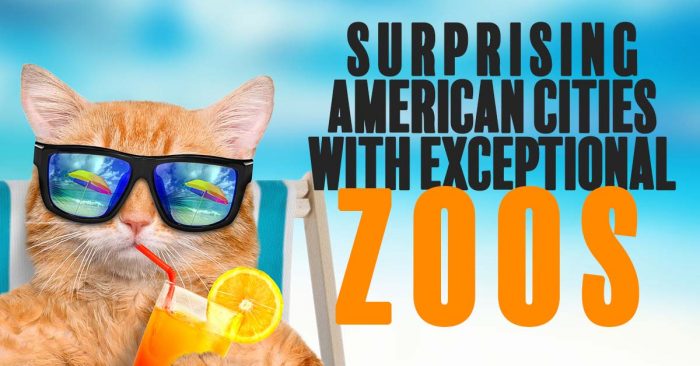 Surprising American Cities With Exceptional Zoos
There are some world-class zoos in the United States including the Bronx Zoo and the San Diego Zoo. In between, however, there are some surprising gems in unexpected places. Here are some underrated and surprising zoological parks that dot the country.
The Toledo Zoo
This surprising zoo is sparkling clean and offers a variety of family friendly activities including train rides.This zoo has quietly built its reputation as one of the great places to visit in this Northwest Ohio community. The Zoo has almost 4,400 animals and the zoo has earned its nickname as "America's Most Complete Zoo."
The Brevard Zoo
Located along Florida's east coast near Melbourne, the Brevard Zoo has several unique features like a head high giraffe viewing area where you can feed giraffe's face to face and an ant farm-style prairie dog exhibit which can't be missed. Of course, you'll also see the obligatory gator exhibits including daily feedings. If you are heading to Florida's Space Coast, be sure make Brevard Zoo a stop.
Alabama Gulf Coast Zoo
In Gulf Shores, Alabama, this zoo offers some interesting personal encounters not found at other larger zoos, including those with sloths, kangaroos and others. There is also a fair share of lions, tigers and bears. This is a zoo that takes its visitors personally.
Indianapolis Zoo
This central Indiana zoo is perhaps most noted for being the only place in the Midwest where visitors can actually swim with the dolphins. There is also an exceptional Orangutan exhibit. For a significant extra fee, you can have a favorite animal create a work of art just for you.
Riverbanks Zoo
In Columbia, South Carolina, this zoo has a large collection of over 2,000 animals ranging from giraffes and penguins to Galapagos tortoises and sharks and eels. This zoo and aquarium has a definite tropical atmosphere to it.
Some other cities with exceptional zoos that don't get a lot of attention include the Alaska Zoo in Anchorage, The Doorly Zoo in Omaha, Nebraska, The Fort Worth, Texas Zoo and the Audubon Zoo in New Orleans. It is estimated that over 180 million people attend the nation's zoos and aquariums each year. That's more than all of our major league sports combined. Which ones will you explore?