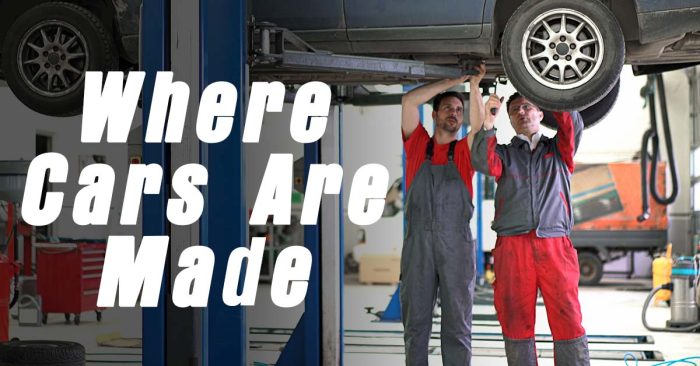 Where Cars Are Made
For generations, Detroit has been known as the Motor City, the center of the automotive universe. While the region is still very car-centric, the world of automobile production has changed dramatically in recent decades. Here is where cars are now made.
China
China has been leading the world in the manufacture of automobiles for decades now. About one-third of all vehicles manufactured in 2021 are estimated to have been manufactured in China. That makes them the world leader…by far.
The United States
While China manufactures the lion's share of the world's vehicles, the U.S. still remains a major player. The country produces about 12% of the world's vehicles, but in places beyond Detroit. While Michigan still tops the list, states with major automobile production plants include Ohio, Indiana, Texas, Illinois, Tennessee, Missouri, Kentucky and elsewhere.
Japan
Japan has been a major producer of motor vehicles since the 1970s. While the early vehicles produced in Japan were considered cookie cutter and of poor quality, that has changed significantly. They hold one of the top three spots, producing an estimated 8,000,000 vehicles in 2021.
Germany
Germany is known for its superbly engineered vehicles by brands such as Mercedes-Benz, Audi, BMW, Volkswagen, Porsche and others. The 3.7 million vehicles the country produced in 2020 was good enough to make them the fourth largest vehicle producer in the world.
India
You may not have heard of Maruti Suzuki, but it has a nearly 50% share of the Indian automotive market. Other top brands in India include Hyundai Motors India which sells the Eon, Santro and Creta and Tata Motors, which features the Sumo, Indica, Zest and Storme.
The top ten is rounded out by South Korea, Mexico, Brazil and Russia.
Whether you drive a Mercedes-Benz, Ford, VW or BMW, you could be paying too much for your automobile insurance. Contact us for a no-obligation quote. As independent insurance agents, we will connect with our network of insurance companies to search for the coverage best for you. We look forward to assisting you.