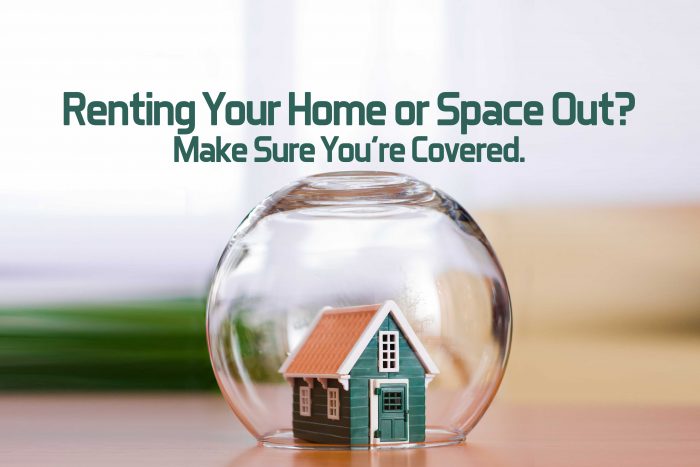 Renting Your Home or Space Out? Make Sure You're Covered.
If you are using your home to make extra money through a home-sharing service like Airbnb you are far from alone. According to Airbnb, they now have over 6 million listings worldwide in over 100,000 cities in 119 countries or regions across the globe. On average, every evening over two million people stay in an Airbnb listed property. That's a lot of properties and a lot of people involved in the process, it also poses a lot of risks.
Many homeowners may not quite understand the full ramifications of listing on Airbnb. First, your house is no longer just your home, but it now becomes a rental property, in essence, a money-making business. You are now dealing with the public and are on some level, responsible for their safety and well-being. If you worry about having a pizza delivery guy trip on your front porch or having a neighbor kid gets hurt on your trampoline, wait until you have the stress of having strangers staying in your home for a few days unchaperoned.
The reality is you will be liable if someone gets hurt on your property. Now you can minimize the financial damage suffered in a liability claim or lawsuit through insurance coverage. Airbnb provides property owners with what it calls its Host Protection Insurance. This provides up to $1 million in coverage in third-party claims of injury or property damage. This sounds pretty good, but there's more that should be done.
First, if you file a claim on your personal homeowner's insurance and they discover you have been renting your home out through a home-sharing service, they may not only deny your claim but may cancel your policy, potentially retroactively. So first, it is critical you let your homeowner's insurance provider know you are involved in home-sharing.
You should be aware that your personal homeowner's insurance policy may not cover a variety of losses including:
Personal property of yours that is stolen or damaged by a guest
A guest's damaged or stolen personal property
Property damage done to a neighbor's property by a guest
Injury caused to a neighbor by a guest
In the event you are renting out an apartment or condo, damage to the physical building may not be covered
If you are participating in a house-sharing program, contact us and let's review your coverage and quote you a business or rental policy that can close the gaps. You've made a big decision to share your house, now make a smaller one to make sure you are adequately protected.