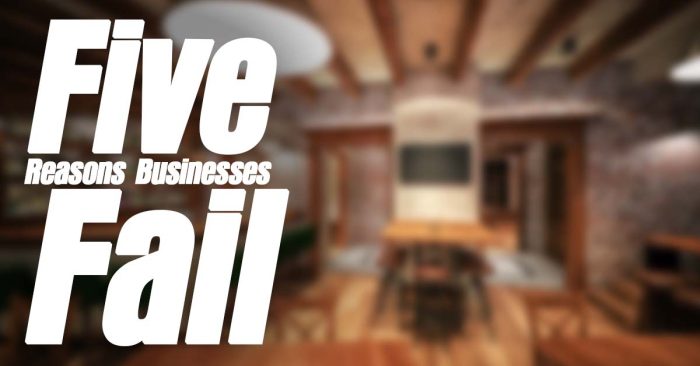 Five Reasons Businesses Fail
There are exceptional rewards to having your own business. You build self-reliance, confidence and can enjoy independence. But make no mistake, there are pitfalls. Long hours, a sense of loneliness and irregular paychecks can be just a few. Starting and maintaining a business can be challenging at the least. That's why you should know these five reasons businesses fail.
Lack of a Viable Business Plan
A well-conceived business plan can serve as your map for success. It can also serve to set goals and monitor your progress. Find mentors and those who have experienced business success to provide input for your business plan and refer to it often.
Lack of Financing and Financial Resources
There is no doubt you will build sweat equity in your business, but effort alone is not enough. You need financial resources for equipment, inventory, marketing, payroll, taxes, insurance and other day-to-day operational expenses. Lack of financial resources leaves no room for mistakes and can lead to decisions that are contrary to your business plan.
Poor Inventory Control and Management
Having too much inventory on hand can be as much of a problem as having too little. Inventory absorbs cash in most cases, cash that could be used elsewhere. Poor inventory control can also lead to theft, including employee theft, which is one of the main reasons businesses file bankruptcy. Monitor inventory and financial resources carefully.
Disorganized or Inexperienced Marketing
This is a wide-ranging area that encompasses lack of knowledge about your target market, digital and traditional media, content marketing, branding, advertising and sales. You should not just know the various ways to reach your target market but the best, most efficient ways to reach them.
Failure to Clearly Listen to Customers
Your customers will likely tell you what they want, when they want it and how much they are willing to pay, if you listen close enough. If certain products or services aren't selling to your expectations, your customers either don't know about them, have no interest in them or find them too expensive. Listen to them.
Businesses can also fail due to circumstances seemingly outside of their control, like natural disasters, accident injury claims, theft or vandalism. All of these, however, can be covered by a business insurance program. Contact one of our independent business insurance associates to see how affordable a basic business plan can be for your organization.