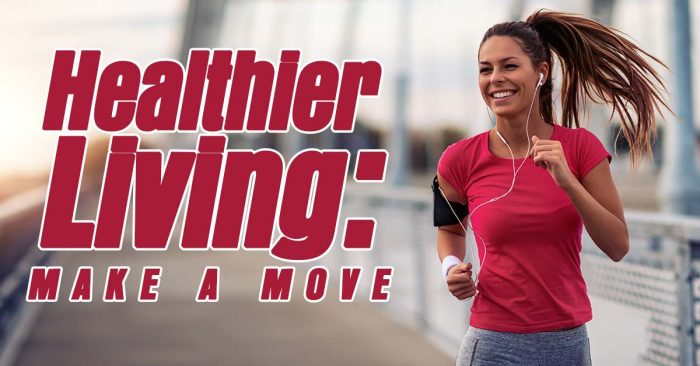 Healthier Living: Make a Move
Far too many fail at staying on the path to healthier living because they make it too challenging or complicated. They set lofty goals and strap themselves down with a lot of rules and restrictions.
It may start with a dramatic change in diet or restricting certain foods. They'll combine that with limiting carbonated or alcoholic beverages, joining a fitness center or by purchasing the myriad of exercise devices advertised on television. It may be well-intentioned, but it often fails under the weight of expensive equipment, memberships and complex diet programs.
If any of this sounds familiar, it may be time to make a move. Not a move to a new address or different diet plan, but to simply get off the couch and move.
Start by taking short walks to decompress or to start your day with intention. Breathe in the air, listen to the birds, enjoy the sun on your face. A simple walk up and down the street or around the block may be all you need to get started. View this as your own personal time or invite your spouse or a friend. It doesn't have to be difficult or complex. Just move, and short walks are a terrific start.
What's next? Well, you could extend those walks five minutes per week or go from one to two blocks. You set the pace. If you are competitive with yourself, keep track of time and distances. This may lead you to moving a bit more briskly. But it is your choice. You are always in control.
Eventually, you may wish to add a brief jog to your walk, or simply just keep walking. It is your program and it is far better doing it your way than quitting on someone else's plan.
Who knows, in time you may decide to add an occasional bike ride and enjoy some of the area parks and trails that may be near.
All of this may just lead you to drinking more water and even healthier eating habits. All because you decided to make a move.
When you are young and healthy is the best time to make a move into building your life insurance program. Rates will likely never be lower and you can probably qualify for a large amount of affordable term life insurance without a physical exam. Contact one of our independent life insurance agents to discuss a plan for your situation. You may be surprised at just how affordable life insurance can be. Make your move today.